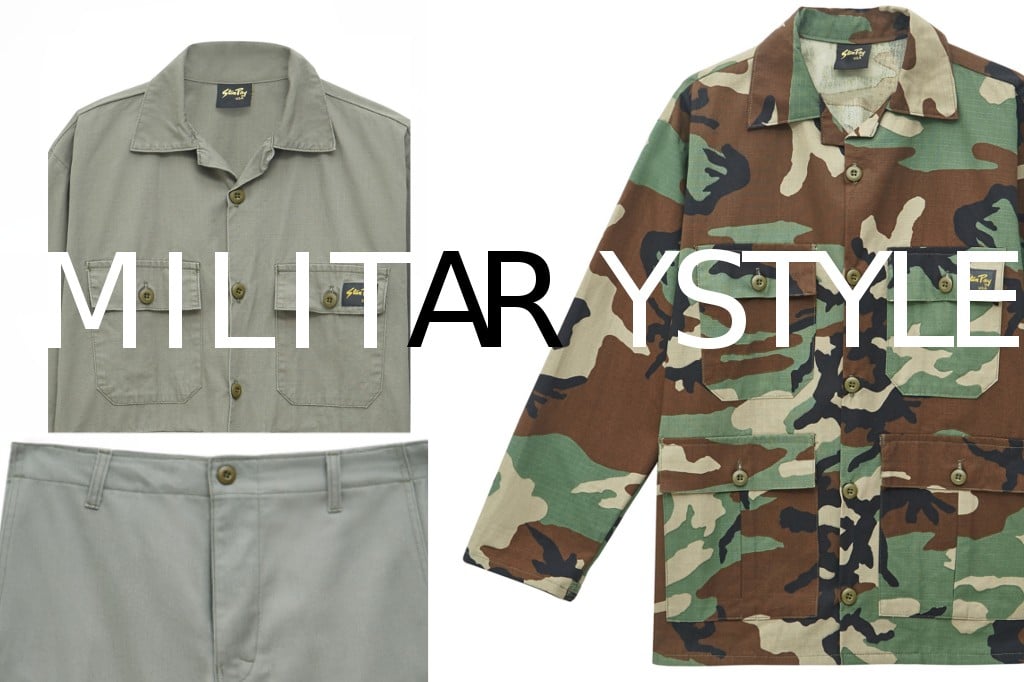 Military Style Comeback ?
Die Produkt-Links werden unabhängig ausgewählt. Im Falle eines Kaufs des Produkts nach Klick auf den Link erhalten wir ggf. eine Provision.
Der Military Style ist zurück. Mehr oder weniger. Er galt eigentlich für tot erklärt, doch nun meint Stan Ray ihn aus seiner Versenkung zurückholen zu müssen und das passend zu Ostern. Was in den 60er Jahren begann und sich doch recht weit bis in die 90er trug, ist in 2016 fast schon undenkbar. Ein basic piece mit einem Kleidungsstück im Military Style kombinieren? Für die Masse undenkbar. Dennoch beobachten wir ab und an Fashionistas oder Promis dabei, wie sie geschickt den Military Style in ihrem Look einbauen.
Zugegeben: anfänglich war ich auch eher skeptisch was den Military Style angeht, mittlerweile bin ich ganz angetan davon. Nicht zuletzt, weil er derzeit (noch) ein eher wenig getragener Look ist. Und das steigert den Marktwert deiner Individualität ungemein. Außerdem dürfte sich der Military Style beim Osterhasen großer Beliebtheit erfreuen, muss er doch immer getarnt und somit geschützt sein wenn er seine Eier verteilen geht. Sonst passiert es schnell, dass Schokoladen- und Eier-Geile Menschen wie ich vorbei kommen und den Bunny überfallen. Um das zu vermeiden, könnte der Osterhase ganz einfach zum Military Style greifen. Wir dagegen wären alles andere als getarnt. Wir würden umso mehr herausstechen, wenn wir plötzlich ein Hemd mit Tarn-Aufdruck tragen.
Schaut Euch definitiv mal bei Urbanoutfitters um, ob ihr nicht das ein oder andere Teil im Military Style ergattern könnt. Es wird Zeit, dass ich mehr Individualisten auf den Straßen sehe! Unter dem Bild lest ihr noch ein Interview über den Designer Stan Ray.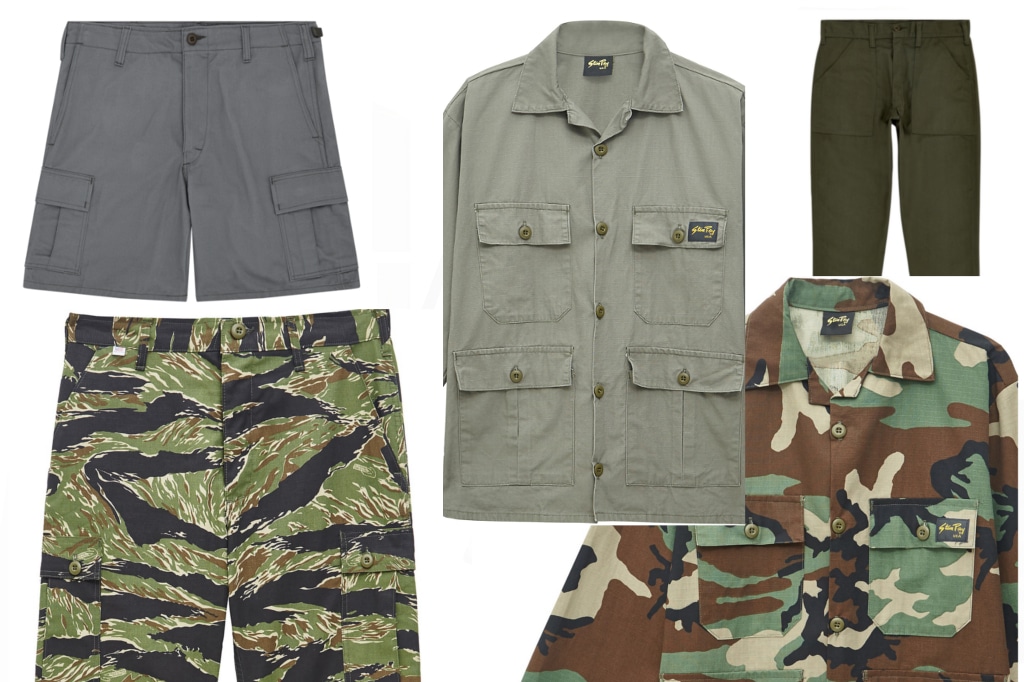 Interview mit Stan Ray über den Military Style
How did Stan Ray get its start and what were the early years like?
Stan Ray began life in Texas back in 1972. Earl Beard, a father of four, had survived three rounds of layoffs at Kalman Machine Co, a maker of work wear for the Texan construction industry. The third round of layoffs was the catalyst for Earl to invest in a couple of sewing machines from Mr. Kalman and start out his own workwear company.
The early years were tough. The US economy was in decline, Earl worked on sub contracts for other manufacturers gleaning small profit, but built a solid reputation within the USA work wear industry. As time passed, Earl's company was one of a handful of remaining coverall specialists still manufacturing in the USA.
During the late 90s, Earls products found their way into the Japanese fashion market, picked up by retailers Beams and Ships. This marked a new era for the brand's fortunes and global reach. Today Earls, Stan Ray and the Gung Ho labels are well known throughout Japan and Korea and over 2,500 hardware stores in the USA.




Can you tell us a bit about the brand's aesthetic? 
The collections are entirely functional, based around every day workwear styles and military work uniforms, which are made in the USA at our facility in Texas.
What is the inspiration behind the collection?
Being a workwear brand our collections are heavily influenced by market demand, broken into two segments.
The first is our 'civilian workwear', which comprises of painter / carpenter pants, chore jackets, coveralls and dungarees. The second is our 'Military workwear' which includes items like our 4 Pocket Fatigue pants, Cargo or BDU (Battle Dress Uniform) Pants and Military style jackets. These make up the mainstay of our collections.
For this collection, we were inspired by the Japanese market and how they wear and rework modern vintage pieces, especially OG107 Military work uniform styles.
Talk us through the design process, from inspiration to development. How do you piece together a collection?
The collection for Urban Outfitters features archive styles tailored to create modern silhouettes.
We referenced military design imagery, matched it to the archive samples we have at headquarters in Crockett, Texas and then re-worked samples with local UK tailors to adjust patterns.
The result is authentic archive styles with a modern fit and look, which allow for the collection to be worn in a number of different ways. We're pretty sure though, that when the US military designed OG107 uniform they didn't intend for them to be worn with Loafers or Vans!
What was the biggest challenge in producing this collection?
Delivering on USA made production and finding authentic US military dead stock fabrics has been our biggest hurdle, but we have some great connections within the US manufacturing industry.
Can you tell us a little about the fabrics and materials used?
We use military grade fabrics in most of our collections, sourced from US suppliers. The Vietnam era tiger stripe, used on an Urban exclusive six pocket cargo pant is made by Tiger Stripe Products, suppliers and designers of camouflage for the US military.
We also use rip stop cottons and cotton sateen extensively throughout the collections. These two fabrics have quite a flat look 2D look, but once washed they have an instant vintage look, becoming 3 dimensional, with seam puckering and stitch details popping off the garment.
Can you give us your top styling tips for a key item from the collection?
For a super clean classic Japanese look, wear slim sateen 4 pocket trouser rolled with black Chuck Taylors, white tee and seersucker shirt with a packable down jacket. Or you could style the Bellows fatigue tied at mid-calf with Tech sneakers, white socks (NB 991, Adidas Primeknit or Nike Flyknit), a grey hooded sweat and a black MA1.
Which is your hero item?
I love the slim 6 pocket bellows fatigue in tiger stripe that we developed exclusively for Urban.
What's next for Stan Ray in 2016 and beyond?
We are looking to add more made in the USA layering into the collections and some heavier outerwear styles for AW16. Apart from that, we will continue doing what we do, making painter pants and fatigues in the USA.
Do you have any advice for aspiring young designers?
If you have a dream, chase it. Learn from your mistakes and seek out constructive criticism: act on it where you can. Follow your heart and don't be afraid of failure as you have nothing to lose. Most of all, work hard and be nice to people.
What trends are you most excited about for 2016?
I'm super excited to see different trouser silhouettes in menswear. I'm also looking forward to seeing how the military trend develops. I'm secretly hoping it develops into a 70s/80s peace movement style, last seen in the acid house days of the 90s.
If you could sum up the collection in three words, what would they be?
How about two? "Peace Corps"